Home Buyers Assistance Program: How I can help with the home buying process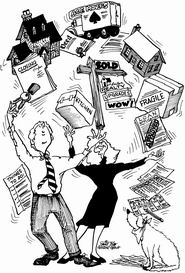 Step 1 – Establish our agency relationship.
The real estate agent who has listed a sellers home for sale is duty bound to put the sellers interests first. Shouldn't you hire an agent who will put your interests first and negotiate the best price and terms for you?
Step 2 – Ask questions to determine your specific wants and needs.
I will sit down with you to find out what the perfect home for you would be. What you must have in a home and what features would be nice if you could find them in a home.
Step 3 – Assist with professional mortgage pre-qualification through a mortgage lender.
Step 4 – Conduct a detailed search of the MLS & jointly select most suitable homes. I can help you make a targeted and focused home search. If a great home comes to the market you will know about it quickly.
Step 5 – Tour selected homes to compare and evaluate your likes and dislikes. I have access to all of the homes in the Multiple Listing Service database. I will schedule a time to look at homes that works with your schedule.
Step 6 – Analyze estimated costs home selected.
Here is where we will look at all of the costs involved with a specific home purchase. The down payment, the cost of home insurance, what the property taxes will be, along with a complete breakdown of the financing picture.
Step 7 – Explain and complete the contract forms.
Besides the purchase offer paperwork, there is lender paperwork, title company paperwork and disclosures from the seller. I will guide you through the whole process.
Step 8 – Conduct and complete the negotiation process.
What is a good purchase price? Should you offer less then is being asked? Is this home worth the money? Make sure you have an agent on your side that can give you unbiased advice you can rely on.
Step 9 – Handle all the details for closing.
I will coordinate all of the paperwork to make sure everything gets done when it is supposed to get done.
Step 10 – Get you the keys to your new home.
This is where all of the work pays off.
Step 11 – Follow up after closing to ensure satisfaction.
I would like to be the agent you choose to work with. My goal is to find the right home for you. To give you unbiased advice and to represent you and your interests during the buying process. Please contact me to find out if I am the right agent for you.
Call me directly at 760.476.9560 or email me via the contact tab
Help Me Find a Home