15 Ways I Can Help Homeowners Get Top Dollar When They Sell In Today's Market


The secret to a successful sale is the combination of unparalleled client services and good communication. That's why I go the extra mile to make sure all my sellers profit from the services I offer.
When you list with me I will:
1. Explain the services I provide.
2. Conduct a comparative market analysis to zero in on your home's value.
3. Help you decide the price to set for your home and discuss fix-ups that will improve the value of your home.
4. Estimate your home's equity and discuss your future buying power.
5. Review my selling strategy for your home.
6. Review a moving timetable and assist with your next home purchase.
7. Draw up the listing agreement spelling out the terms including price, listing period and commission.
8. Place your home on the MLS database and internet real estate sites.
9. Actively market your home to potential buyers and the most active real estate agents in the area.
10. Advertise your home online.
11. Pre-qualify potential buyers and show your home.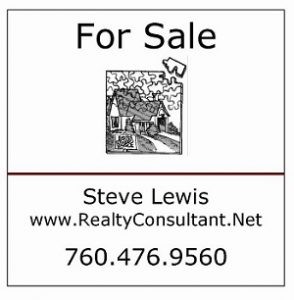 12. Update you weekly on the progress of the sale and on market changes.
13. Assist with negotiations and answer questions.
14. Help with all paperwork.
15. Coordinate closing details, inspections and appointments.
If you would like to talk to me about selling your home
call me directly at 760.476.9560 or email me via the contact tab.